Open a new gift from Jennifer every day for 25 days! Plus, you can enter for a chance to win fabulous prizes, including Cricut cutting machines, sublimation printers, gift cards, and more!
As a thank-you for your support and encouragement over the last five years, I am sharing free patterns and inspiration for DIY projects, home decor, and gift ideas just for you during the 2022 holiday season! I do this every year, and this year I'm calling this project the Merry Maker Mingle 2022 and it is a virtual holiday countdown calendar filled with gifts for YOU!
Each day, beginning December 1, 2022, I present you with a brand new "gift" — a project to craft, make, or do. You can make these projects on a Cricut cutting machine or by hand if you don't have one. Most of our Merry Maker Mingle projects will come with a fun video with yours truly, a step-by-step printable photo tutorial, and a free pattern/SVG cut file.
Each Merry Maker Mingle project "gift" should be ready to open by 7:00 pm ET each day, starting December 1, barring any technical difficulties. And around noon on most days, I will broadcast on my YouTube channel and Facebook Page LIVE to open a day, give you a preview of the evening's project, offer tips and advice, and share some holiday cheer! Bookmark this page and return each day. Or just sign up FREE here and I'll email your gift to you directly each day.
The "gifts" are all hidden in this sweet little Gingerbread House village — each day I'll reveal a new gift as I open the door to another house!
Merry Maker Mingle 2022 Virtual Advent Calendar
Here are all the houses we have yet to open — you can click on them once a project is ready to get all the goodies!
In addition to these 25 virtual gifts that everyone gets, I have 25 days of giveaways, including several Cricut cutting machines, sewing machines, and playbooks! Click below to see the prizes, read the rules, and enter my giveaway!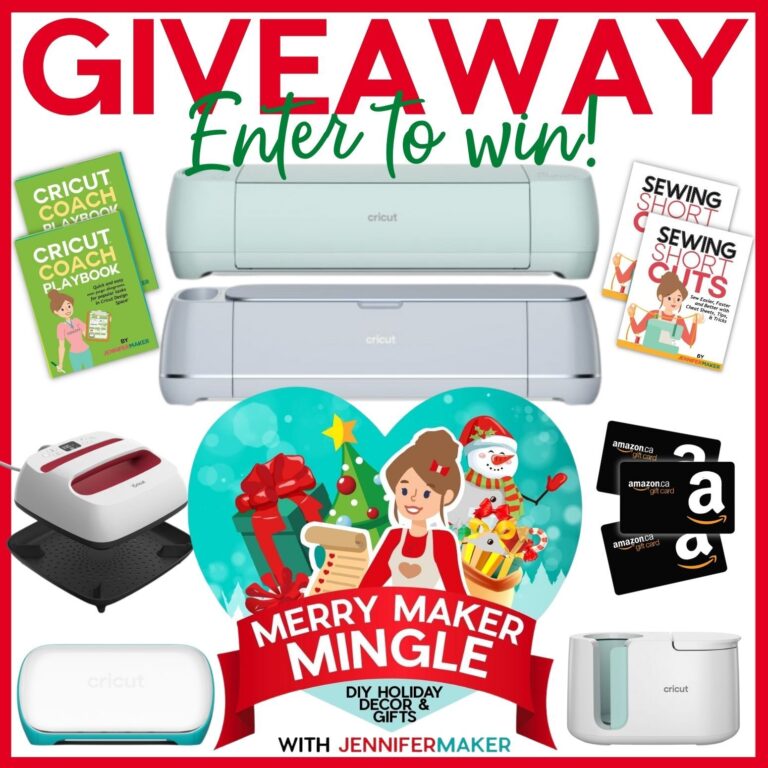 You can even earn extra entries daily by watching each video, completing and sharing a photo of completed projects, liking and sharing my videos and tutorials, and so on! The more you participate, the more chances you have to win.
Prizes will be awarded DAILY, with the grand prizes being awarded on December 28, 2022!
You can get started earning entries right now by sending me project ideas using the entry form below or through this link.
Tip: Check out our Giveaway Help page to learn how to enter our giveaways, get bonus entries, and more!
This is my gift to you for the tremendous support, enthusiasm, and love you've shown to me and my little blog over the past six years. This blog, and you, have completely transformed my life and I am SO very grateful. I want to give you back something for everything you've given to me. Thank you from the bottom of my heart!
Happy Holidays!
Love,