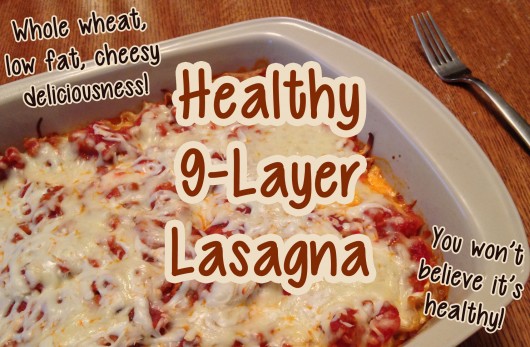 If there is one healthy recipe that gets requested more often in my house, it's my lasagna. I know … lasagna, right? You wouldn't think lasagna could be healthy, or if it were made healthy, that it could be good. But my lasagna is both good for you and good for your tastebuds. And, it's not as hard as you think. I'd never made lasagna before I tried this, and — astonishingly — it turned out perfect. I also love how we always have leftovers, because when you're on a diet, having quick-and-easy food is hard to get. And lately, I've been making TWO lasagnas at the same time, only one goes into the freezer instead of the oven. So when I'm busy but we need a good meal, I just pop the lasagna out of the freezer and into the oven.Assembling two lasagnas with my daughter—this is a good activity for budding chefs!
My recipe uses whole wheat lasagna noodles, lean ground turkey, fat free cottage cheese, fat free mozzerella cheese AND low-fat mozzarella cheese (just a bit for the tastebuds), and lots of tomatoey goodness. It really is good!
Healthy Lasagna: 100% Simply Filling and So Delicious!
Classic lasagna gets a healthy makeover and keeps all of its delicious goodness.
Ingredients
8 sheets of whole wheat lasagna noodle (about half a box)
1 lb. ground turkey (or lean ground beef if you prefer)
1 tsp minced garlic
1 small white or yellow onion, chopped
1 24 oz. jar of fat free pasta sauce (divided into two parts)
14.5 oz. can of Italian-style diced tomatoes (without added sugar) -- the Italian-style is one of the tricks here, as it adds an amazing flavor to your sauce
3 oz. tomato paste
1/4 teaspoon ground black pepper
1 egg
2 cups fat free cottage cheese
2 teaspoons of dried parsley
1 1/2 cup of fat free mozzarella cheese
1/2 cup of low-fat mozzarella cheese (or use fat free cheese anyway -- I just think it tastes and looks nicer with the melted low-fat mozzarella cheese, and it only adds 1/2 point)
Instructions
Pre-heat oven to 375°F.
Cook your lasagna noodles per the package instructions and drain.
In a large skillet, brown meat with garlic, and onion, then drain.
Add to the skillet with the meat all but 1/2 cup of your pasta sauce, tomato paste, diced tomatoes, and black pepper, then warm thoroughly.
In a medium bowl, beat egg and add cottage cheese and parsley.
Spray your lasagna pan with non-stick spray or a thin coating of olive oil.
Layer your lasagna in the pan in the following order: 1/2 cup of reserved pasta sauce, 4 sheets of lasagna noodles (overlapping to fit), half of egg/cheese mixture, half of meat sauce, 1 cup of fat-free cheese, 4 sheets of lasagna noodles, rest of egg/cheese mixture, rest of meat sauce, rest of fat-free mozzarella cheese, and the 1/2 cup of low-fat mozzarella cheese
Cover with aluminum foil and bake in oven for 25 minutes.
Remove foil and bake 5-10 minutes until cheese on top is melted.
Let stand 10 minutes before eating.
Notes
Use all fat free cheese to keep it 100% SImply Filling, or add 1/2 point per piece if you use some low-fat in addition to fat free.
https://jennifermaker.com/healthy-9-layer-lasagna-100-simply-filling-and-so-delicious/
The original inspiration for this recipe called for DeLalo no-boil whole wheat lasagna noodles, which are not available in my local store — so I simply boil mine first. However, I believe it is possible to make a good lasagna without boiling the noodles first, and indeed one package of whole wheat noodles I've purchased offers a recipe for it. In fact, I think plenty of people just throw their noodles in without cooking them. But I really think the whole wheat noodles need to be cooked for maximum texture and taste. One time I ever so slightly undercooked my noodles, thinking "what's the big deal, they'll cook in the oven." But both my guys noticed and commented on it. So well cooked noodles it is for us! But if you want to try it because it's 5:00 and dinner needs to get on the table fast, try this: put the dry noodles in your lasagna and after the 25 minutes of covered cooking, add about 1 cup water to the lasagna.
On the topic of whole wheat, here's a little factoid: A 100% whole-grain pasta includes all three layers of the wheat kernel: the bran, the germ, and the endosperm. Because nothing is removed during processing, whole-grain pastas contain more natural fiber and micro-nutrients than the white pasta to which we're more accustomed. That extra fiber in the whole-grain pasta also means it's more filling than traditional white pasta. See, it's healthy and filling!
Step by Step Photos of My Healthy Nine-Layer Lasagna:
Get your ingredients together — don't forget you'll need a deep lasagna pan, too!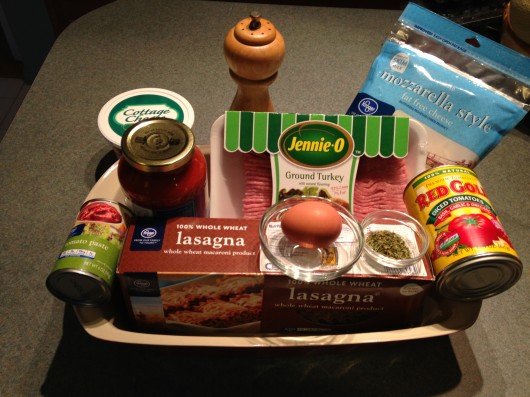 Cook your whole wheat lasagna noodles: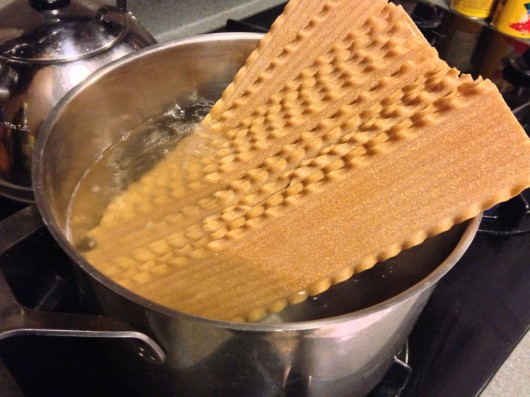 Brown your meat: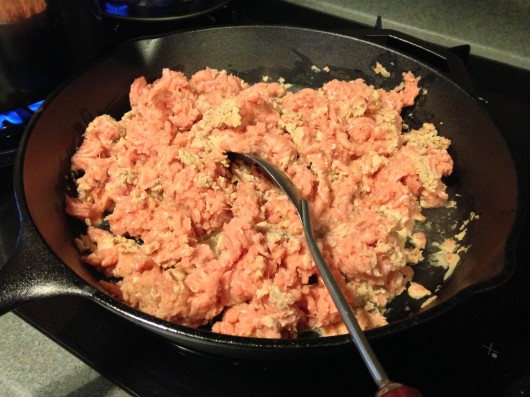 Chop your onions: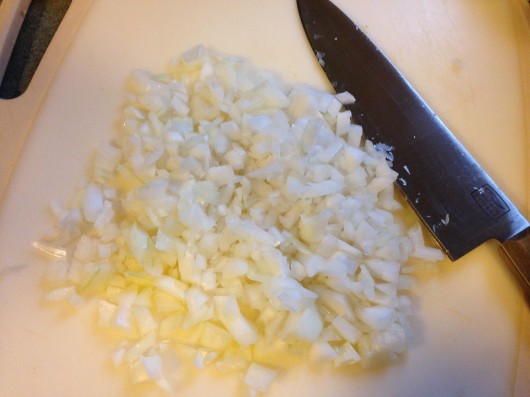 Meat, onions, and garlic are browned and ready!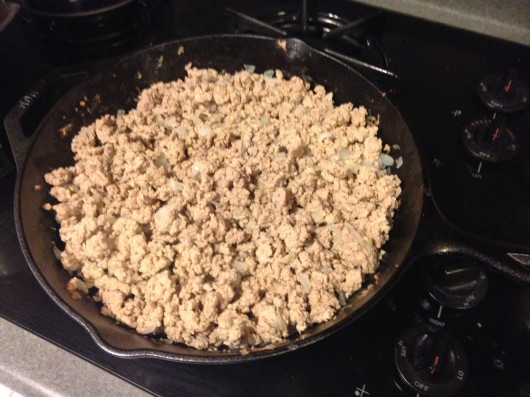 Making the meat sauce: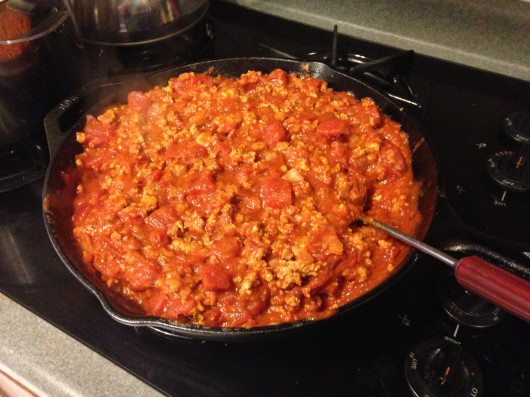 Beating the eggs: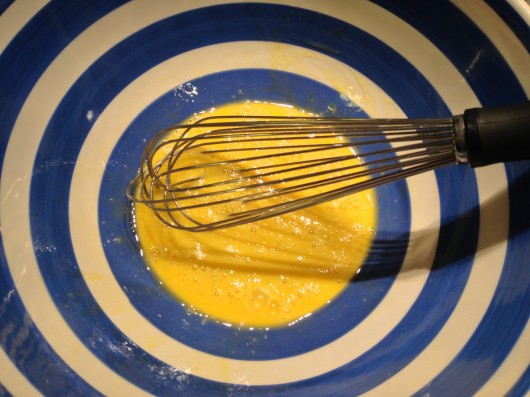 The egg and cheese mix is ready for the lasagnas: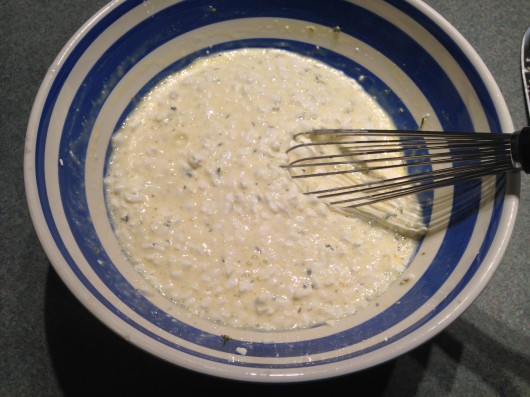 Layer 1: Pasta sauce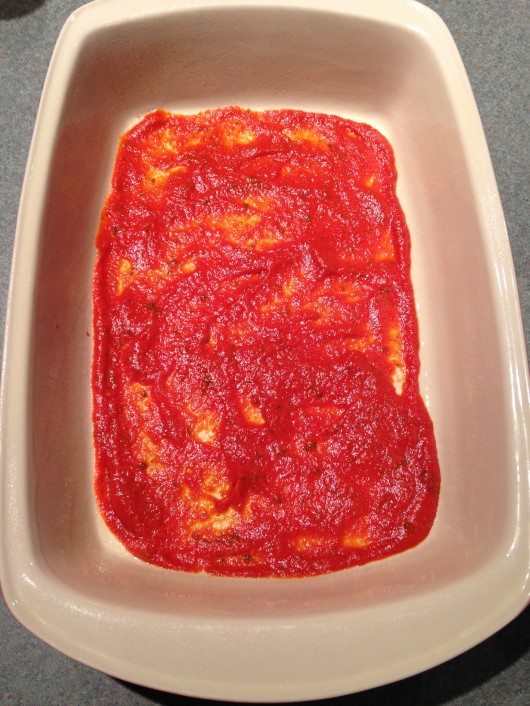 Layer 2: Noodles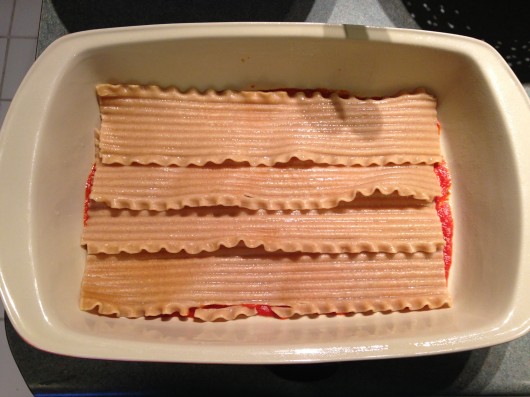 Layer 3: Egg/cheese mix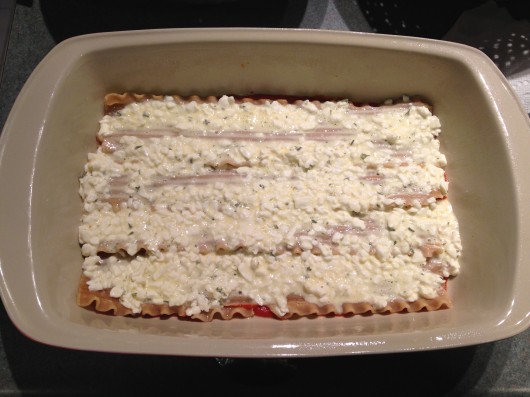 Layer 4: Meat sauce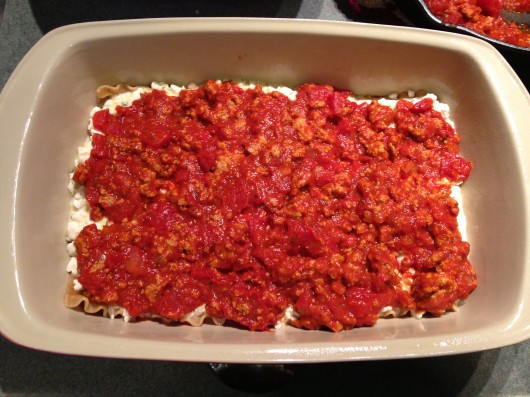 Layer 5: Mozarella cheese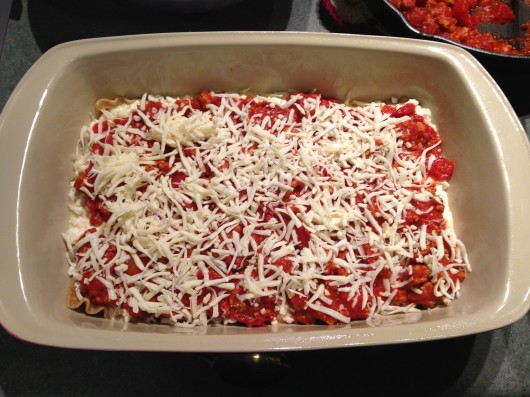 Layer 6: More noodles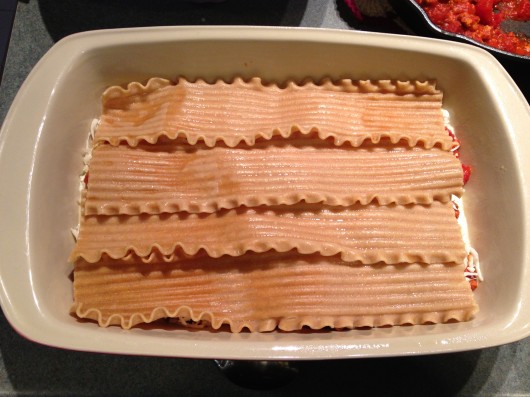 Layer 7: More egg/cheese mix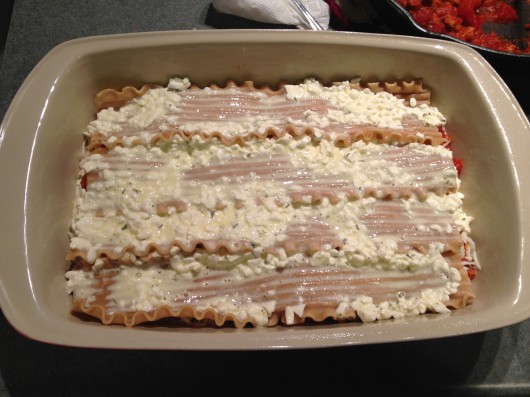 Layer 8: More meat sauce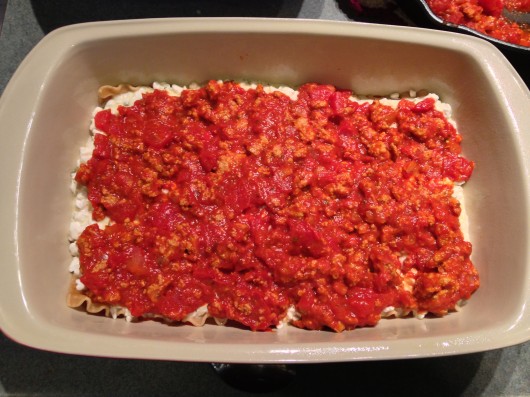 Layer 9: Final layer of cheese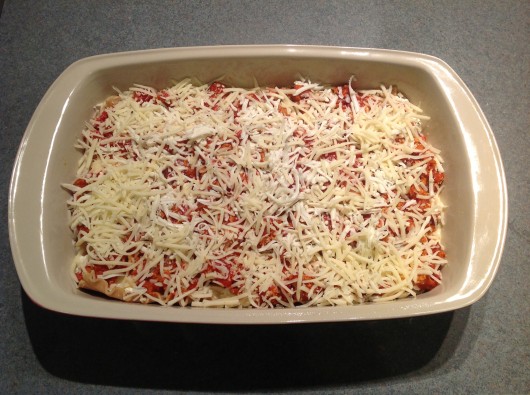 Cover with foil and put it in the oven or in the freezer.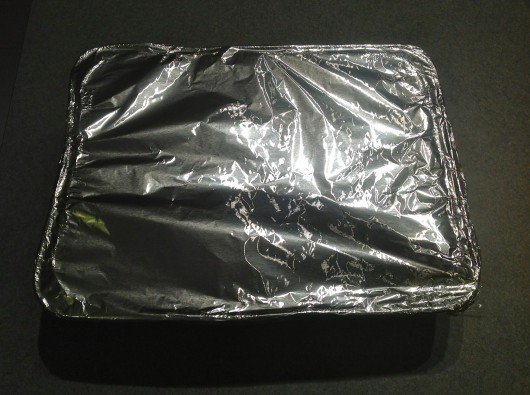 If you decide to freeze it, you'll want to allow 1-1.5 hours to bake it from frozen. And don't forget to pack up all those leftovers for lunch and dinner: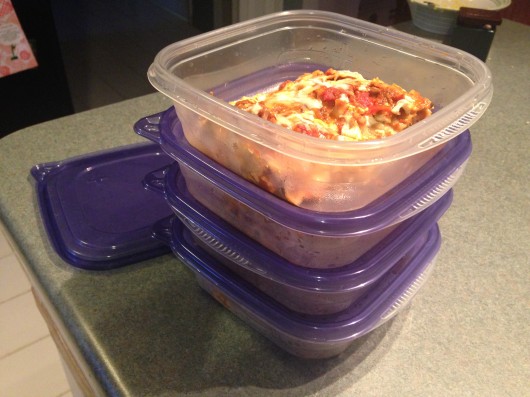 Enjoy!