Hawaiian Pork & Pineapple Kabobs are popular in our house! The dish is surprisingly healthy and inexpensive to boot. It's also quick to make (less than 10 minutes under the broiler). But the real reason it's popular with my guys is that it's super delicious. Greg said to me, after eating it last night, "I think I fell in love with you all over again after I ate that." Awww, thanks sweetie.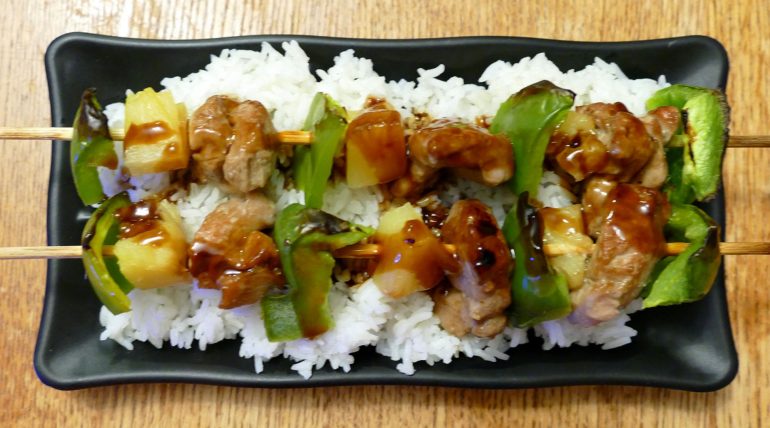 Please forgive my rather mundane photos — I was more focused on making food for my hungry family than taking beautiful photos with gorgeous set designs last night. When Greg saw me taking the photos, he asked if I was going to take my dish downstairs and put it in my lightbox. Ha ha! No way. I'm a naughty blogger! So here are my real food photos with no filters!
Preparing the Hawaiian Pork & Pineapple Kabobs
The first task is to make the teriyaki marinade. It's just reduced sodium soy sauce, brown sugar, ginger, and garlic. Just mix it up and you're ready to marinade the pork. You'll use only about 1/4″ cup of it for the marinade, however — the rest is reserved for drizzling on afterward.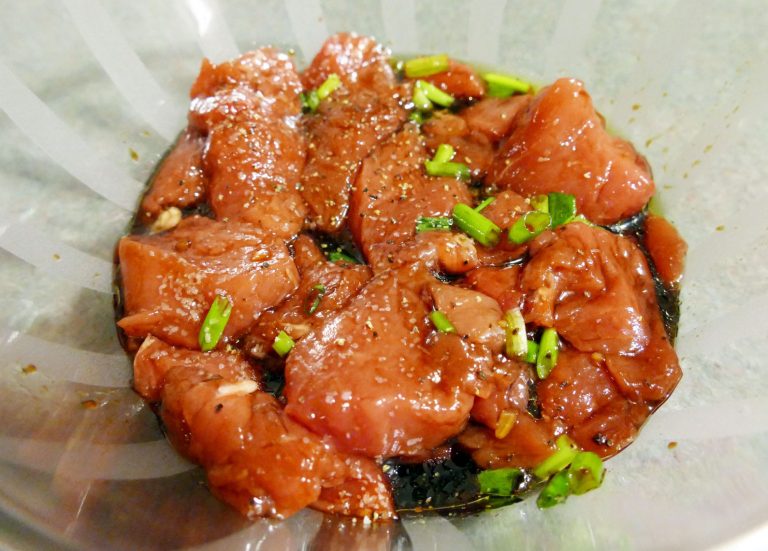 The pork marinades in the homemade teriyaki sauce plus a bit of olive oil and green onion. I only had the pork marinading for about 10 minutes.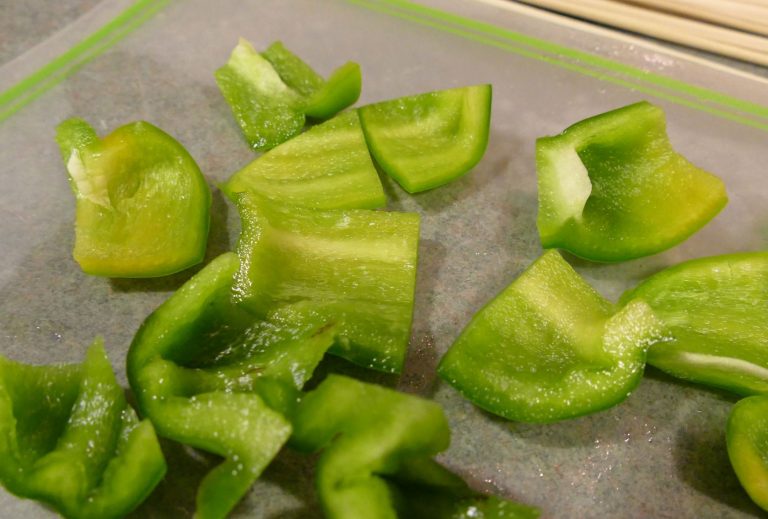 I like to chop up my peppers for kabobs so they are look (and act) like little shields. I just wash them, chop off each of the four sides, then cut each side into four. Very simple to do when you're in a hurry.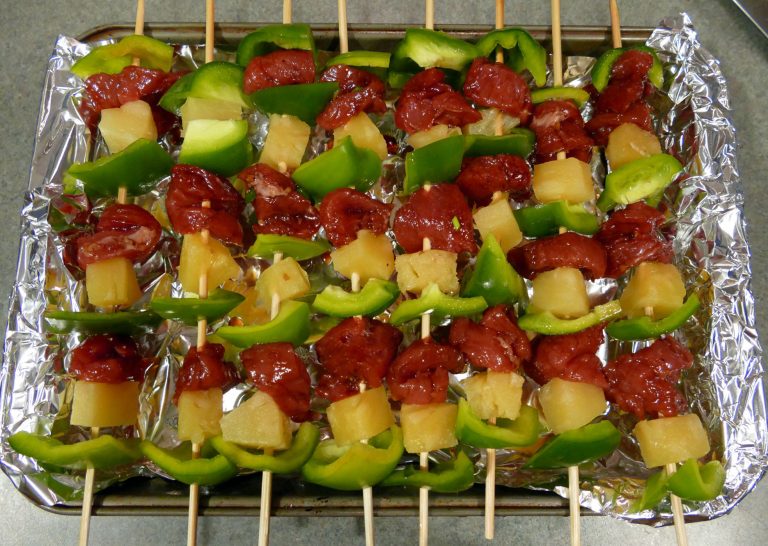 One trick to putting food on the skewers is to give the items some space. It allows them to cook faster and more evenly! So no crowding the kabob.
I also opted to put the kabobs over a foil lined pan rather than a baking sheet. This meant the juice dripped down into the pan and the food didn't sit in it. Little healthier, little tidier. I just rested the ends of the skewers on the sides of the pan.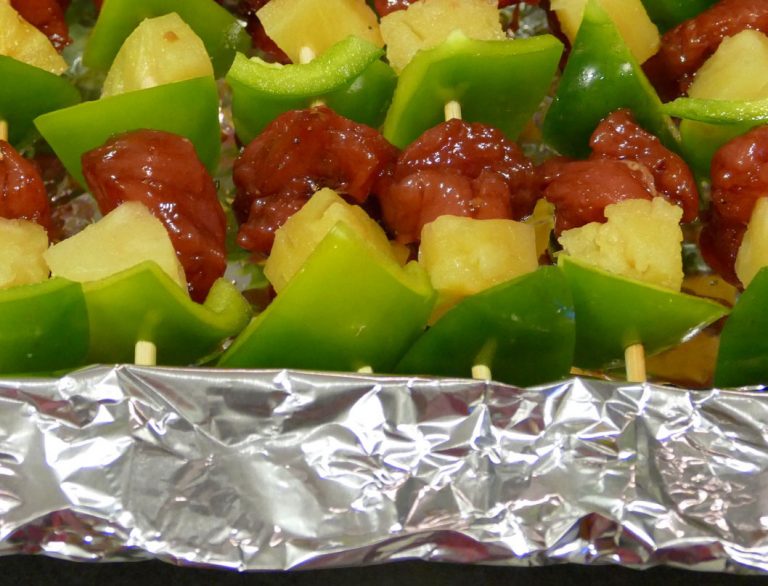 Here's another kabob trick — put foil on the end of your skewers before they go in the oven. That broiler is hot and the skewers have been known to get pretty singed. If you cover the ends with foil, they won't turn black!
While your kabobs are under the broiler, you'll use the rest of the teriyaki marinade to make a sauce. Just add some cornstarch and the juice from your can of pineapples and heat it up a bit until it thickens.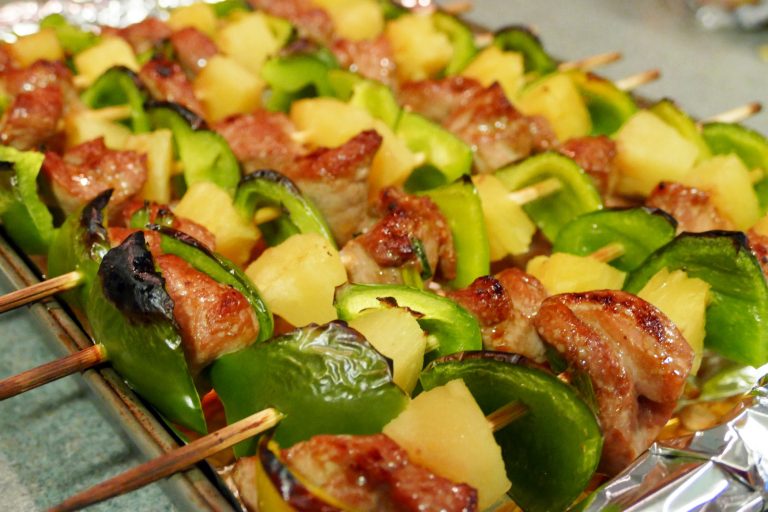 I really love that these kabobs only need 8 minutes under the broiler. I usually start the rice first (in my ancient rice cooker I brought home from Japan), then do everything else and it's finished at the same time. So that's just about 30 minutes!
Hawaiian Pork & Pineapple Kabobs Recipe
Hawaiian Pork & Pineapple Kabobs with Homemade Teriyaki Sauce
Ingredients
1 pork tenderloin
1 cup reduced sodium soy sauce
1/2 cup brown sugar
1 teaspoon of ground ginger
2 cloves of garlic, minced
pinch of salt
pinch of black pepper
2 green bell peppers
4 green onions
1 8 oz. can of pineapple chunks
1 tablespoon of extra virgin olive oil
2 tablespoons of corn starch
8 wooden skewers
Instructions
1. Preheat the oven to broil temperature and place the oven rack 6" to 7" below broiler.
2. Wash pork tenderloin, pat dry, and cut into 1/2" slices.
3. Trim and thinly slice green onions on an angle.
4. Mix soy sauce, brown sugar, ginger, and garlic to make teriyaki marinade.
5. Toss pork in 1/4 cup of marinade (save the rest for later), 1/2 of the green onions, and all of the olive oil. Salt and pepper as you wish. Set aside.
6. Drain pineapple and set aside juice for later.
7. Cut green peppers into 1 1/2" rectangles.
8. Assemble skewers, keeping some air between items so heat can mingle about.
9. Place skewers on a baking pan covered in aluminum foil.
10. Broil skewers for 8 minutes.
11. Mix remaining marinade with cornstarch and 1/2 cup of pineapple juice until thickened to a light, syrupy glaze.
12. Plate the cooked skewers on a bed of white rice. Drizzle on teriyaki sauce and remaining green onions.
https://jennifermaker.com/hawaiian-pork-pineapple-kabobs-teriyaki/
Note that if you're going for a healthier meal, swap out the white rice for brown rice.
Super Inexpensive Meal!
I'm working on a meal plan of items you can get for a great price for budget-minded folks like me. I'm strongly considering add my Hawaiian pork & pineapple kabobs meal to my meal plan. Let's look at how much I paid for the ingredients at my local Aldi. (I heart Aldi!)
Pork Tenderloin – $4.01
Green Onions – .69
Green Peppers – $1.29
Pineapple Chunks – $0.99
Long grain rice (1/3 of a bag) – $0.43
(I had the soy sauce, brown sugar, olive oil, and corn starch already.)
Total = $7.42, or $1.61/person 
That's a great price! But let's say you were getting the items from scratch. So here are the prices for those items:
Reduced sodium soy sauce  – $1.29
Brown sugar – $0.99
Extra virgin olive oil – $3.29
Ground ginger – $1.29
Minced garlic – $0.99
Corn starch – $0.69
Obviously we're not using the full amount of these items, but they add up to $8.54, or $2.14 per person. So altogether, from scratch, Hawaiian pork & pineapple kabobs are just $3.75/person. Even with the extra stuff it's a great deal!
Love,