With both hope and desperation, I began blogging in earnest this month. I wrote down some notes about what I wanted to blog about. Here's what I wrote in October 2016 (a copy and paste from the document I saved them to, no editing!):
Blog Mission: I love creating beautiful and useful things … making, not buying! I love to write tutorials, I love to help people learn how to make things, too. Genuine DIY Projects that benefit everyone in the family. Projects you can work on FOR the family, and WITH the family.
My Passion and Talents: Making DIY projects and then explaining exactly how someone else can do it. I have a talent for making things, and I know about — or can quickly learn — how to make nearly anything.
My Potential Blog Audience: A woman who wants to make quality, awesome things for herself and her family so she can save money, help the environment, and/or be the envy of everyone who sees her crafty, one-of-a-kind thing. Probably 30-40 year old women in families.
My first official post as a "real blogger" was about how we converted a kids bed into a tween USB bed. (I hit "publish" on September 25, 2016). In the month of October 2016, I made a total of seven posts (mostly food and DIY related).
My October 2016 Blog & Social Media Stats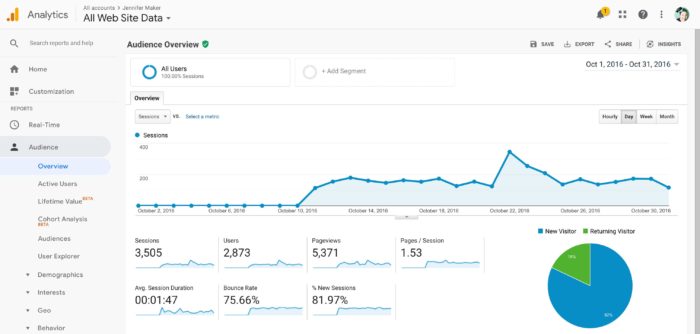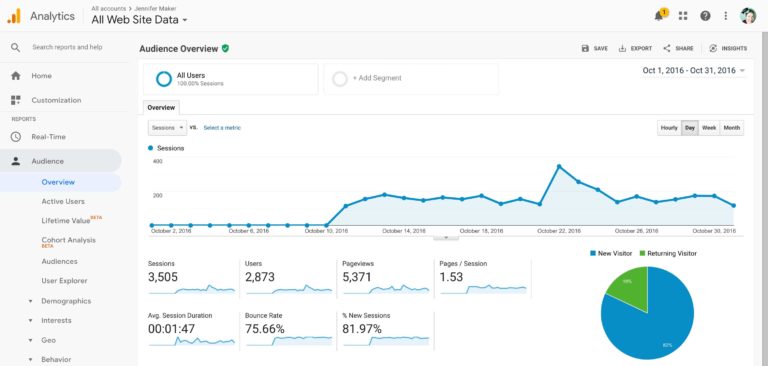 Pageviews: 5371+ * (I didn't hook up Google Analytics to my blog until October 11, so I'm missing those days)
Sessions: 3505+
Users: 2873+
Mailing List Subscribers: 0
Pinterest Followers: 521
Posts Published: 7 (best post: DIY Bath Bomb Recipes)
* Most people don't get 5000 pageviews in their first month of blogging (though it IS possible — my Pinterest experiment blog got 10,000 pageviews in its very first month). I was broke so I just re-used a hobby blog I'd started two years prior. It had some regular traffic because I'd put a post about Alexa's Minecraft Party on there, pinned it to Pinterest (because I loved Pinterest) and people liked it and shared it. So this give me a little headstart. At the time, I thought this was awesome traffic for a blog and thought I had a HUGE headstart. But in retrospect, no. It wasn't really that big of a deal. Why? Because the posts that were getting traffic were about parties and food, which are two things I decided to STOP blogging about within a month of starting. So the only advantage I had was that my domain name — jenuinemom.com — was "aged." This meant it wasn't in the Google sandbox as a brand new domain. But as I changed my domain name soon after this, even that didn't help. So I didn't really have a great advantage and I don't feel that it made any significant difference in hindsight.
My October 2016 Blog Income
Advertising Revenue: $12.39 (Google Adsense)
Affiliate Revenue: $1.80 (Amazon Associates)
Product Revenue: $20 (Etsy) *
Sponsored Content: $0
* The product revenue figure is a little sketchy, and at the time I was counting it as blog income so I included it here as well. Basically it's a PDF of plans for my R2D2 shelf I put on Etsy for $10 (so I sold 2 in October). I say this is sketchy because I made the PDF earlier in the year and put it on Etsy just to see if anyone would buy it. So it's really not reflective of the efforts of this month. Still, technically it was related to my blog, so I included it. Back then, when I made this income report, I was desperate for any indication I could make money at this blogging thing.
Total blog income: $33.19
Below is a breakdown of my monthly expenses:
I do not know of any blog-related expenses during this first month. My domain was already paid for, same for my hosting account. I was paying for Adobe Creative Cloud, but this was mainly used for my other work at this point. I've been using Adobe products since their inception. I just happened to have it (and definitely used it). So if you want to factor that in to this income report and all that follow, I spent $31.79 for Adobe Creative Cloud each month. At the time, however, my business was paying for it so I didn't include it as a blog expense.
Project supplies: I was broke and bought almost nothing. Pretty much everything I used this month was just stuff I had at home already. I mean, my mummy candy bowl was made with toilet paper, for Pete's sake. And I was re-using old K-cups. The only thing I knew I spent money on were some supplies for making bath bombs, but I believe I had only bought some basic things (baking soda, epsom salt, citric acid, and coconut oil). So I maybe spent $15. Everything else was actually gifted by my sister because it was the big surprise for my birthday! I am not including my project supplies in my income reports because for a long time, they were things I would have bought without a blog meaning I didn't track them at all.
Net blog income for October 2016: $33.19
Note: To make ends meet this month, I also did freelance work on Upwork — mostly just odd writing jobs. So even though I wasn't making money on the blog, I was finding a little bit elsewhere to make ends meet. In addition to my freelance work and my blog work, I was doing my regular work for my travel publishing company. As I recall, we barely scraped by. Barely. We had to drive to Colorado unexpectedly because Greg's dad passed away this month, and we only had enough money for gas — no money for motels. We took our old tent and slept in campgrounds. In October. Brrrrr.
My Blog Goals
This month my blog goals were as follows:
Get new content published twice a week (almost made it!)
Get my Pinterest account started up and promote my blog posts there (definitely did this — I put a lot of effort into Pinterest initially)
Get my blog hooked up to Google Analytics (done by Oct. 11)
Get a new free theme for my blog (done)
Add Amazon affiliate links to my blog posts (done)
Add the Yoast SEO plugin to my blog (done)
Time Spent Blogging This Month
15 hours/week
When I began my blog, I was doing other things to earn money because I HAD to. I had a 20-year-old business that I was trying very hard to resurrect, and because that wasn't working, I was also doing freelance work on Upwork. At this point, I had an 80/20 time split between my business and my blog (with the business + freelance work getting 80% of my time). An average work day for me at this point is from 8 am – 2pm (while my daughter is at school), then again from 3-6 pm if I'm able. I also tried to squeeze in work around the margins whenever I could, so maybe another 1-2 hours. If I'm not doing something in the evening and my family doesn't need me, I will work until my daughter's bedtime at 9 pm. I rarely worked after that (though sometimes I checked my phone). My weekends were usually busy away from home (due to my hobby), but not always. I probably got in an extra 20 hours per month on a weekend. So at this point a typical workweek is 75 hours (yikes), and a 20% split of that would be about 15 hours. I should also note that the trip to Colorado and back for Greg's dad funeral meant I wasn't able to work the entire month. I do remember stopping to work on my phone at the rest stops and in the hotel at night though. I estimate that I worked on my blog an average of 15 hours per week this month.
Blog Lessons Learned This Month
Most of this month was spent "in the weeds" of my blog. By that, I mean all the technical aspects of blogging. Learning the rhythm of regular posting and promotion, figuring out how to make the blog less ugly (my blog was pretty ugly when I started), learning things like Google Analytics and Yoast, and all that sort of thing. I spent a LOT of time on Pinterest starting and strengthening my account — at least two hours a day in the beginning, manually pinning relevant and popular posts. My big focus was on Pinterest, since I knew how important it was simply from my time there as a user.
My big takeaway this month is that blogging is NOT as easy as it might seem from the outside. There's a whole lot more that goes into blogging that initially meets the eye. But I was up for the challenge all the same. Because I even though I'd been reading blog income reports, I knew it wasn't going to be easy. No one starts a blog and instantly makes great money. I had to have the right mindset, a long-game mindset, from the beginning. I just hoped the blog would be able to pick up the slack a little more each month so I could transition away from the freelance work. That was my big goal for the blog. I never even expected the blog to become my main income — it was only ever just intended to be supplemental income.
And that's it for this month! I hope this has inspired and educated you.
Read the NEXT month's income report or view more of my income reports here!
If you are interested in learning more about my blogging method and techniques, and my personal story of how I created a full-income blog within one year, please subscribe to my little blogger mailing list below.
Love,