Cricut Design Space automatically resizes all uploaded SVG files that are over 23.5″ down to a maximum of 23.5″, which can create problems if your project is larger. Learn how to resize SVG files in Cricut Design Space so they cut at the correct size!
Have you ever uploaded an SVG to Cricut Design Space, cut it out, and realized it was too small? If so, you're not alone. A Cricut Design Space update on July 11, 2019 quietly released a new feature (and updated in early September 2019) — namely, when you upload ANY SVG file that measures over 11.5″ 23.5″ (either wide or high), Cricut Design Space will now automatically resize SVG files to 23.5″ on its longest side. I suspect Cricut did this because so many new crafters were getting confused when they had a very large image and got the "Image Too Large" message, or now the "Project Incompatible" message, and perhaps they thought change would help.
UPDATED: In early September 2019, Cricut changed their original resize of 11.5 x 11.5 to 23.5 x 23.5. This is a huge improvement, but alas, it will still cause some files larger than 23.5 x 23.5 to auto-resize. So if you're encountering this resize issue, use this tutorial.


In the past, we would get this "Image Too Large" warning prior to the update; now we get automatically resized images and NO warning or notification.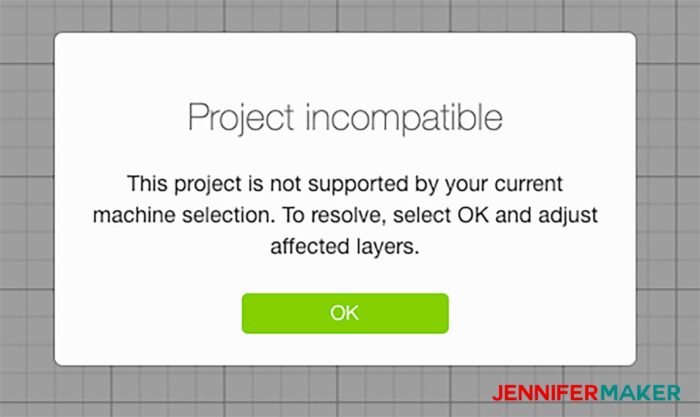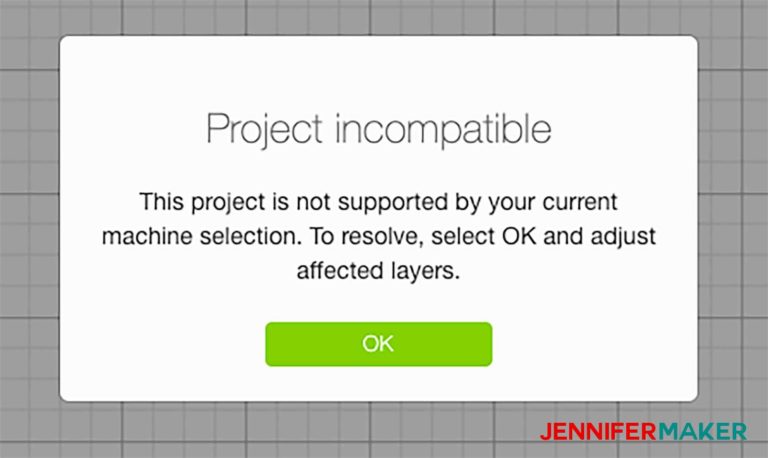 Unfortunately, all this Cricut Design Space update has done is cause a whole bunch of designers' projects to now import too small, including several JenniferMaker 3D projects. The good news is I'm going through my projects one-by-one and updating them so there is a "stacked SVG" that allows import without resizing. But what about all those projects I haven't fixed yet? Or the projects from other designers that won't ever be fixed? That's where THIS tutorial comes in to help you learn how to resize SVG files in Cricut Design Space!
First, if you're unfamiliar with how to upload an SVG file to Cricut Design Space, check out my SVGs Made Simple video series that shows you exactly how to do it on a desktop, laptop, iPhone, or iPad. You may also find this tutorial helpful: How to Upload SVG Files to Cricut Design Space App on iPhone/iPad
Once your image is uploaded, you can place it on your canvas. Unfortunately, Design Space will NOT inform you that it is resizing a too-large image. So you may not be aware of the resize. Thus, I recommend you always check the size of your image — if it is exactly 23.5″ on either side, chances are very good Cricut resized this SVG file. Consider this 23.5″ measurement to be a big red warning that your project is now the WRONG SIZE.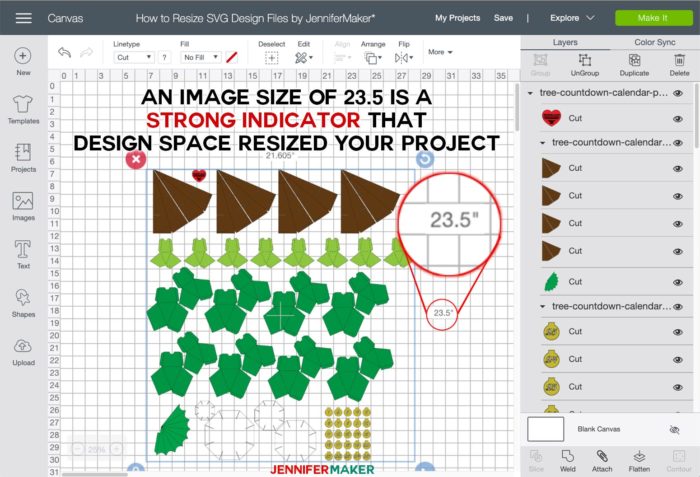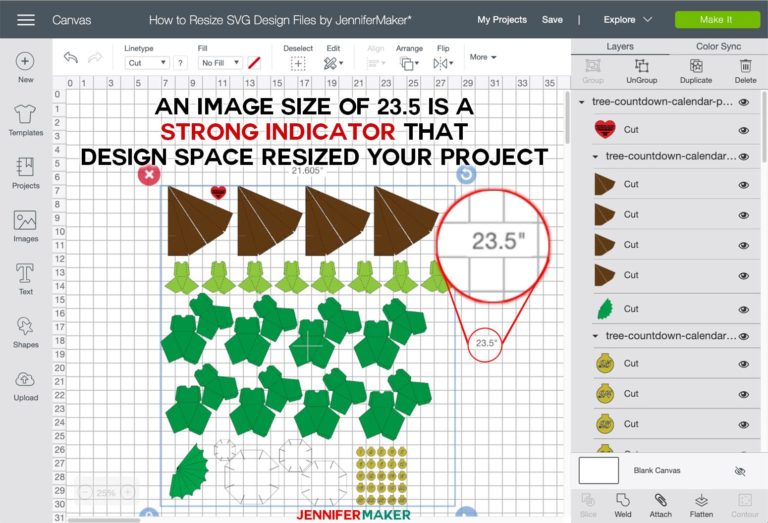 The above SVG file, which I made for my Christmas Tree Advent Calendar, should actually be 46.23″ wide by 50.67″ high. How do I know this? The proper dimensions are shown in a screen shot on the Christmas Tree Advent Calendar tutorial, as well as noted in the tutorial itself. Most of my tutorials include a screen shot of the image in Design Space with the dimensions shown (usually in step 1), so be sure to look for this if you suspect the file is not the right size. If you are ever unsure of the proper dimensions for a project, just ask us at [email protected]
Tip: If you have another designer's file and cannot determine the proper size from their information, there's another way you can see the right size. Download and open Inkscape (free software), then open the original SVG from inside Inkscape (do an Open, not an Import). Then select all elements in the design and note the total size.
Now that you know the proper size, it's time to resize the SVG file back to the correct size. But how do you do this? Read on!
How to Resize SVG Images in Cricut Design Space
Select your uploaded SVG image that you've placed on your canvas. Selecting it means to click on the image until you see the selection box appear around it. In the example below, this image is 11.5″ wide.
Note: Be sure all of the pieces of the SVG file are grouped together before resizing. SVG files should import grouped by default, but if they are not grouped, select all pieces and click the Group icon in the upper right corner.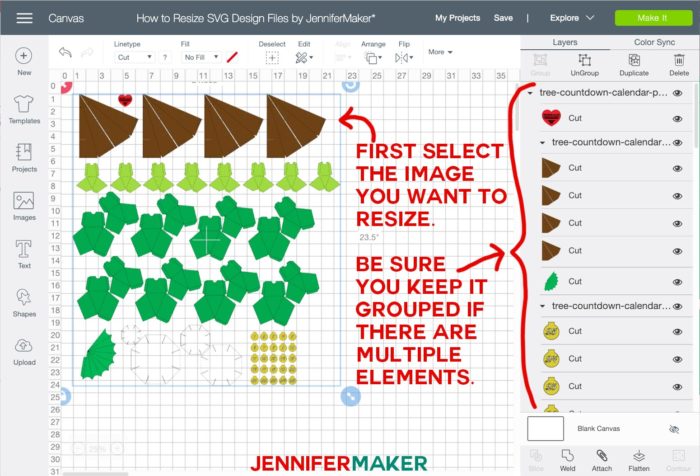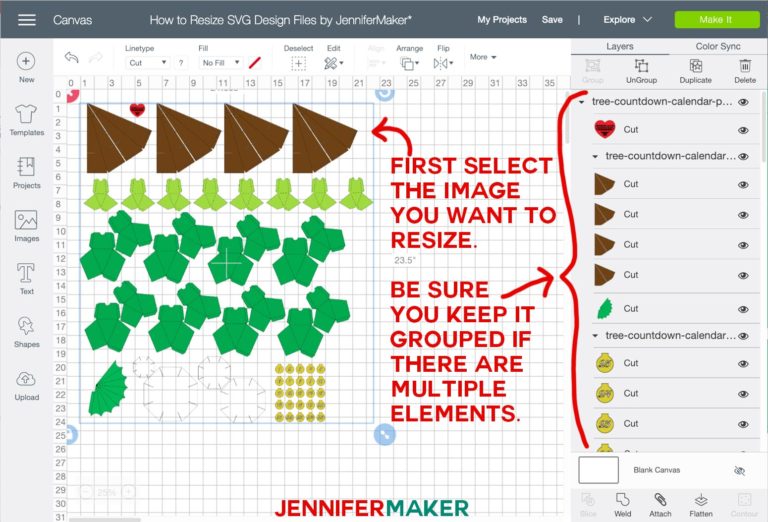 Now go up to the Size fields at the top of the Cricut Design Space window, make sure the lock is on (the lock icon appears closed), and type the proper width in the W field. In this case, I'm changing the width to 46.23″ which I've determined is the right size for this project.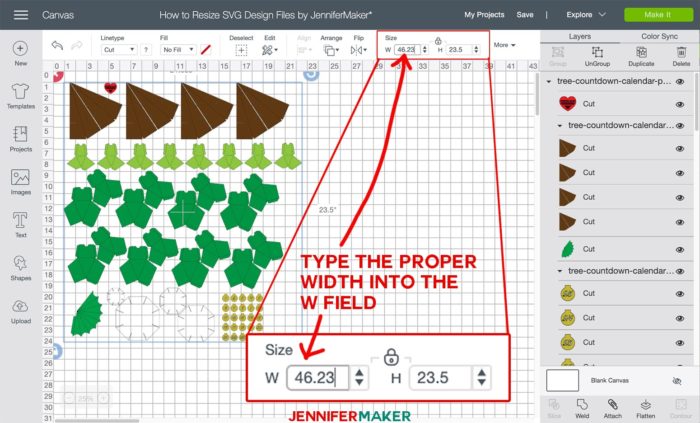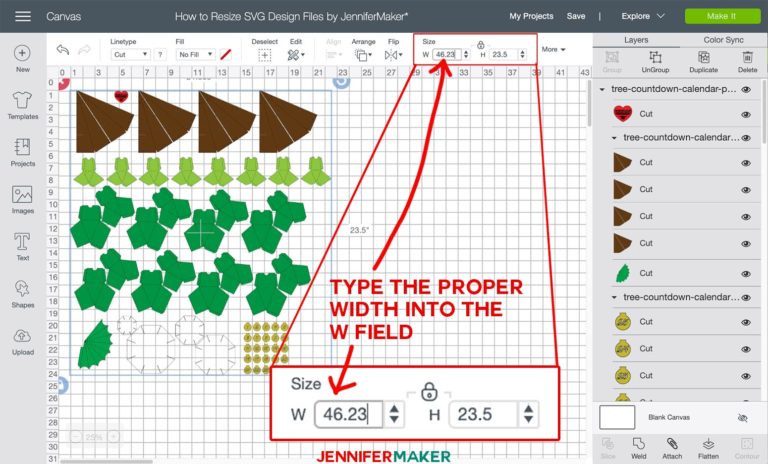 Here's what the lock icon looks like when it is "locked" or closed. Your lock SHOULD be locked by default.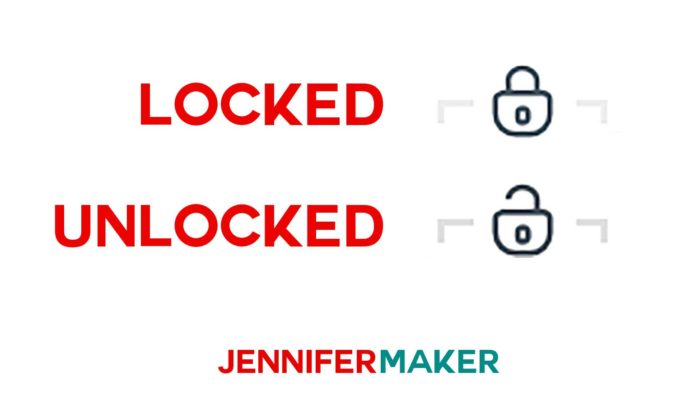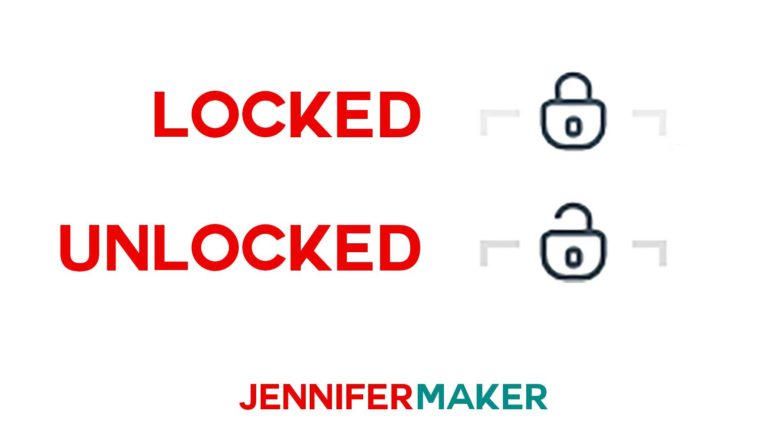 Now press the Return key on your keyboard. The SVG will resize, keeping its proportions so long as that lock icon was on. This SVG is now 46.23″ wide by 5.0284 (not quite 50.67″ from the original design, but definitely close enough).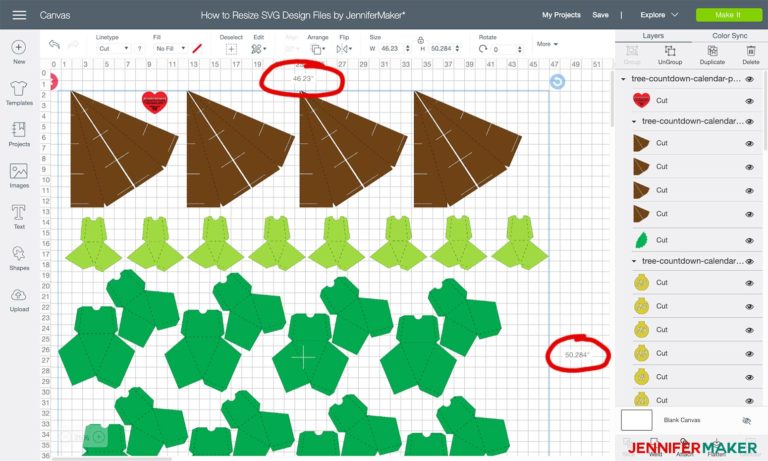 And that's all you have to do!
Note that if you re-upload or re-insert an uploaded SVG onto your canvas, it will resize down to 23.5″ again. So be sure to Save this project with the menu in the upper right so you have the correct size for the next time you want to make this project.
How to Resize SVG Images Larger Than Mat
Now what if you need to resize an SVG image and it's too big to cut on a single mat? We call this "bigger than mat." The good news is there is a way to break up the image so it fits the mat then reassemble it after you cut it all out. To learn how to resize and cut a larger-than-mat project, check out this tutorial: Large Wall Decal: Larger Than Mat Cricut Projects
If you want to get more Cricut tips and tricks, check out this list of 45+ Cricut tips and tricks!
Love,